Inventing the Future by Owning It: Reflections on the FutureRuby Conference
I recently attended the FutureRuby conference in Toronto, Ontario CA. It was put on by the incredible people at Unspace & was exactly what I needed at this point in my life.
What is FutureRuby?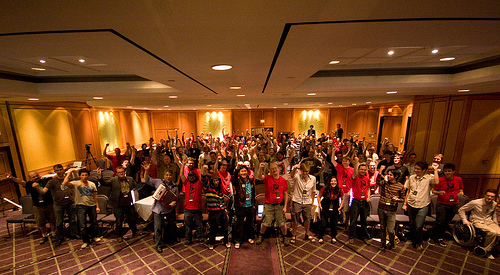 FutureRuby is unlike any other conference I've heard of. Though targeted at Ruby programmers there were only a few talks which were purely technical in nature. Unspace did a great job explaining their goals in the FutureRuby mission statement:
FutureRuby isn't a Ruby conference, but a conference for Rubyists. This is a call to order – a congress of the curious characters that drew us to this community in the first place. We have a singular opportunity to express a long-term vision, a future where Ruby drives creativity and prosperity without being dampened by partisan politics.
The distinction between being a Ruby conference & a conference for Rubyists is an important one which was echoed in every aspect of the conference. At a Ruby conference the pivot point is the language itself. What Unspace did was shift that pivot point towards us, the Rubyists.
In his talk Polyglots Unite! Foy Savas provided an excellent definition of a Rubyist:
Rubyist (n): Person who has come to realize, through Ruby, that the computer should serve them and not vice versa.
I wanted illustrate some of the ways Unspace made FutureRuby all about us, the Rubyists. I will discuss some of the standout talks in separate posts.
Telling a Story
There is a difference between an album & a collection of tracks. An album is a cohesive whole where each song supports the others to create a work which is greater than the sum of it's parts. It tells a story through it's structure, themes & sometimes words.
Unspace created a living canvas for the speakers & attendees to help write FutureRuby's story. Over the course of the weekend I took great pleasure in watching this story unfold through the talks, events & conversations. I have no idea if the speakers coordinated their talks, or how much guidance Unspace provided regarding themes, but I was often struck by how each talk seemed to relate to the others in some way.
Themes such as the banality of evil, owning the means of production, personal accountability & introspection were represented. Talks heavy in "wetware" content were spliced with technical presentations & lighter fare, giving us time to consider the implications of previous talks.
The whole thing was capped by a powerful talk from Jesse Hirsch which railed against the Californian Ideology. Jesse urged us to trust those close to us, our friends, families & community over the business interests of the elite. Though controversial, I feel that it perfectly wrapped up several of the recurring themes. I left the conference buzzing with the thrill of new horizons.
Community is King
One of the key points to take away from Jesse's talk was the importance of community. One of the best things about FutureRuby was the attention put into enabling a community atmosphere.
My first conference was RubyConf in 2008. Being surrounded by so many smart people was inspiring but I didn't leave feeling like I was part of their community. Unspace created an environment where you couldn't help but connect with other attendees.
They did this by organizing social events each night. These included FAILCamp on an island, a kickoff party in their offices, a Soviet themed catered gala at the Pravda Vodka bar & a multi-venue block party. Open bars at each event ensured that even the most socially awkward geeks were lubricated enough to connect with our peers.
As a result of these efforts I left the conference knowing that I would miss the people most. I finally felt like a part of this community I've been lurking around for over two years.
All in the Details
Throughout all of this Unspace went above & beyond to ensure that the experience was top notch. Extra perks like discounted iPhone training, a workshop where you could grow your own bacteria & transit passes so that you could explore Toronto on your downtime (what downtime?) helped keep us engaged at all times.
The Soviet propaganda theme was consistently used with great effect. Upon registration we were greeted with a canvas swag bag with a FutureRuby patch, pin, book of matches & T-shirt. There was a full sized promotional poster available which I plan to frame & hang proudly on my wall. Even the badges & backdrops for the slides stuck with the iconic Soviet imagery.
The catered lunches & dinner at Pravda were delicious. Food & drink was plentiful & every effort was made to accommodate different dietary requirements.
These details combined with the excellent talks & quality company helped create an experience which was far more than the sum of it's parts.
Wrapping Up & Thanks
If this reads like a fluff piece, that's probably because it is. And a well deserved one. FutureRuby ranks near the top of my Best Ever experiences, among multiple European adventures & seeing my favorite band play through sunrise on a boat in the Caribbean. I will do everything in my power to be at any Unspace events in the future.
Some thanks are definitely in order as well:
Pete Forde, Meghann Millard & rest of Unspace crew & volunteers for putting their heart & soul into making this the best experience for us possible. Dan Grigsby of Mobile Orchard & Greg Borenstein for going out of their way to make me feel welcome. Joey deVilla for his detailed notes on some of the talks which helped refresh my memory for this post. The Shopify team for keeping the bar open at Pravda. And most importantly all of the amazing people I met for the stimulating conversation & inspiration.
FutureRuby Elsewhere
Joey deVilla's notes
Various wrap up posts